The ritual of purity
From the Greek THALASSA = SEA and THÉRAPEIA = TREATMENT
Thalassotherapy is a natural treatment that exploits the beneficial properties of sea water and the marine climate, to regenerate the body and give a profound well-being to the spirit. The term was coined for the first time in Brittany in the nineteenth century, although the salutary effects of water had been known since antiquity.
Indeed, for most Eastern cultures, water has always been a source of inspiration, as well as an essential and precious part of life, an element that connects mind, body and spirit.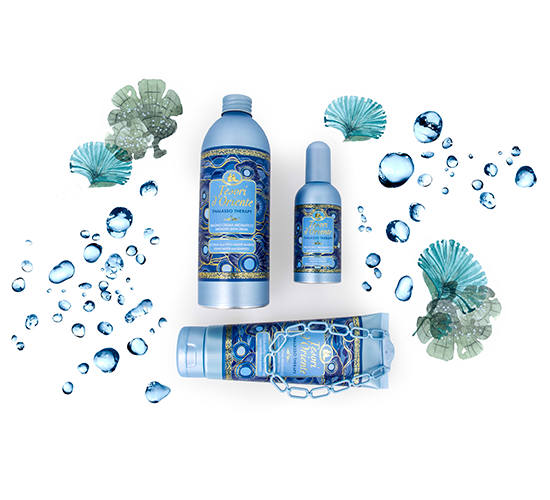 Fragrances
An olfactory journey away from everyday life, an escape to spectacular corners of the world, surrounded by turquoise waters, where you can find your inner peace.

In the head echoes of lemon and Bergamot fade to reveal a heart of salt and algae, with a surprising background that smells of cedar and musk, to give a feeling of fresh well-being.
The line
Thalasso Therapy
Ingredients
SEAWEED: a precious mix of marine algae (Dulse, Undaria Pinnatifida and Nori) selected for their antioxidant, soothing and moisturizing properties. Rich in minerals, antioxidants and vitamins, they hydrate and purify the skin.

WATER OF THE FIJI ISLANDS: extracted in the heart of the Pacific Ocean, 1500 km away from the nearest continent, purified by ocean winds and filtered thanks to the long path between the rocks, it is one of the purest mineral waters in the world. Thanks to the high content of calcium, magnesium and silica, it gives the skin all the hydration and freshness it needs.