ESSENCE OF KINGS
The Ancient Egyptians loved beauty and dedicated much time and attention to the care of their bodies. They were profound connoisseurs of cosmetics and perfumes and refined their art in the production of fragrances of the highest level. Perfumes performed a role of primary importance: they were a path between men and the gods. They were used during ceremonies and religious rituals, but also as tools of seduction.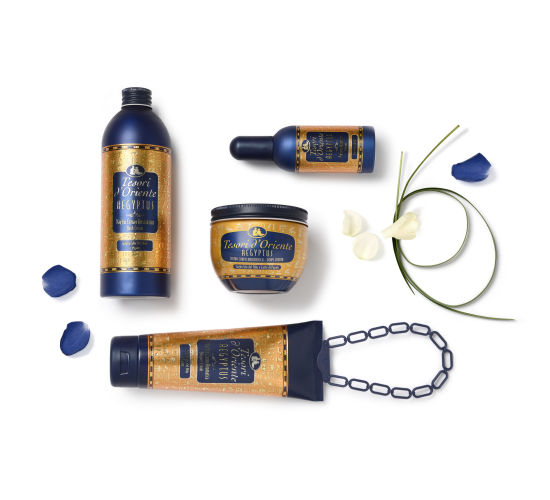 The fragrance
Egypt, the cradle of perfumery, an authentic initial journey which plunges us into a sensual bath of white flower and rose petals, honey, and touches of precious woods. An intriguing and precious perfume born from the magical meeting of fresh and floral Agapanthus accents with warm and enchanting notes of spices and Eastern woods.
Ingredients
BLUE LILY OF THE NILE and PAPYRUS EXTRACT The Papyrus milk extract is rich in mineral salts and vitamins; a true beauty elixir with nourishing and restorative properties that make skin soft and velvety. The Blue Lily of the Nile was considered to be "magical" by the Egyptians and was used for its relaxing and soothing qualities.