Aromatherapy [comp. of aroma and therapy], is a holistic practice that acts on the body's physical, mental, and spiritual processes, through the use of fragrant essences extracted from medicinal plants, flowers, resin, bark, roots, peel, leaves, and fruit.
HISTORY
The use of aromatic oils and herbs for religious or therapeutic purposes has ancient origins: in the Bible, around 2000 BC, there are the first calls for treatment of the body via fragranced aromatic oils.
The practice continued in successive ages, so we have evidence dating back to the Medieval period, the Renaissance, and up to the modern age in which, scientists and chemists undertook to produce artificial essential oils, used as perfumes.
Today, the ancient practice of sprinkling the body with fragranced oils or inhaling essences has given rise to what we call aromatherapy.
The term "aromatherapy" was coined by the French chemist Gattefossè, who, when working with essential oils to produce cosmetics, noted the beneficial impacts of lavender on sunburn. From there, his studies continued with experiments and analyses directed at curing different pathologies through the use of essential oils.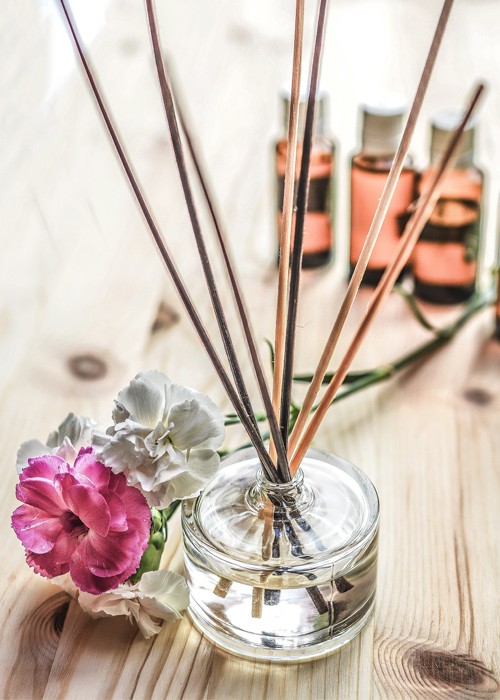 WHAT IT IS
Aromatherapy treatments which we submit ourselves to today are intended to rebalance individuals's physical and mental wellbeing, across many techniques. These are complementary therapies, that don't substitute medical cures, but which benefit our body and spirit. In more detail, aromatherapy is a form of phytotherapy which uses essential oils distilled from plants to cure a wide range of ailments, from headaches to insect bites, from cramps to colds.
BENEFITS OF AROMATHERAPY
With inhalation of aromatic substances, aromatherapy involves both the sphere of the body that of the patient's emotions, sensitivity, humour, and the state of the spirit. Sensing a nice perfume, senses unwind, the spirit relaxes, this can help not only alleviate daily stress but also chronic ailments, or those related to the seasons.