Ayurveda is an ancient philosophy and medicine born over five thousand years ago in India, according to which visible beauty is simply a mirror for inner beauty. Over the centuries, in addition to the philosophical and introspective aspect, an aesthetic side has also been developed, which has resulted in a true beauty ritual, aimed to enhance the harmony of the female body.
RELAXATION FOR BODY AND MIND
Today, it is possible to retrace all the phases of Ayurvedic beauty, even in western beauty centres, allowing yourself a break from stress and tension, to immerse yourself in a "world" made of charming and relaxing perfumes and fragrances.
The ayurvedic ritual provides many treatment phases. Relaxation, hydration, massage, and oil and steam baths are the protagonists of ayurvedic aesthetic treatments, in which the goal is complete wellbeing for body and mind.
The treatments are carried out on various psycho-physical ailments: from those of pressure, to those of stress, from those of bone, to those of skin, improving the entire body's wellbeing, relaxing the mind and coming to act directly on internal organs.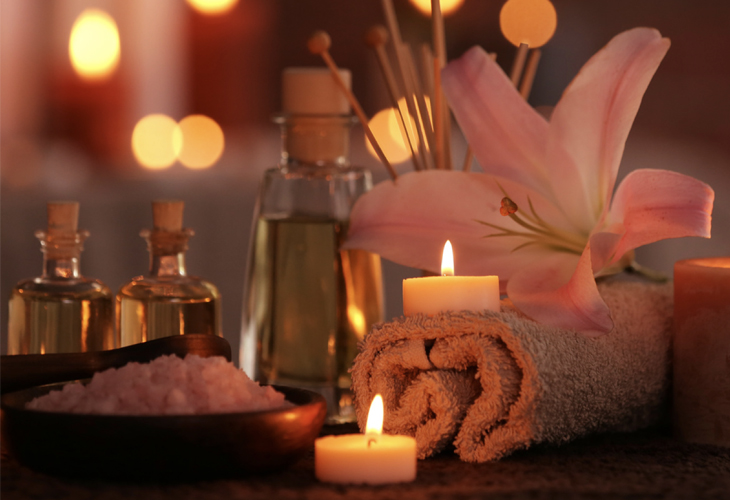 THE POWER OF ESSENTIAL OILS
Multiple essential oils are used during ayurvedic treatments according to their properties, but above all depending on the individual constitution of the person (Dosha) who is undertaking the ritual. Essential oils are the carriers which transmit energy from the therapist's hands to the patient's body; this is why, for ayurvedic massages and practices to be effective, it is crucial to decide which oils or herbs to use in accordance with one's own spirit, to make mind and body's natural beauty radiate.
Usually, dill, calamus, cinnamon, carrot, coriander, cumin, or turmeric essential oil is used to purify skin; you can then choose fennel, lavender, lemon, lemon balm, nutmeg or oregano to remove the accumulation of toxins and develop a draining and anti-oxidative action.
While, to positively influence mind and senses mint, chamomile, coconut, sandalwood, and jojoba essential oils are used together with a vast list of herbalised oils known as Tailam.