Matcha Tea, or Japanese tea, is a variation of green tea in which the leaves are meticulously gathered by hand, and then steamed and transformed into a very fine powder through the use of stone mills.
Thanks to this prolonged process, the flashy green powder obtained is exquisite and particularly rich in vitamins, mineral salts, chlorophyll, and carotene.
PROPERTIES AND BENEFITS
Since antiquity, Matcha Tea has been used for its multiple healing properties and as a medicine, so much so that today its benefits are exploited across herbal tea preparations, infusions, desserts, decoctions, and culinary recipes.
According to more recent scientific studies carried out on the elixir of long life, the Matcha Tea leaves contain 137 times as many antioxidants as regular green tea, as well as polyphenols and amino acids, which reduce physical and mental stress.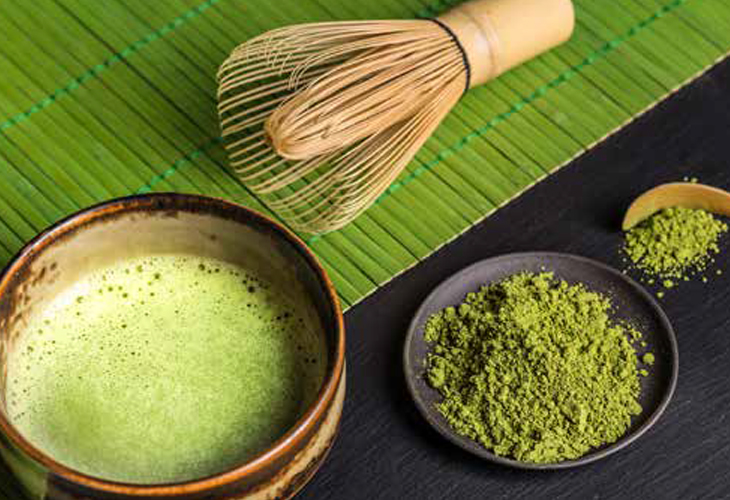 INCREASES ENERGY
Compared to regular teas, Matcha contains a slightly higher concentration of caffeine (between 40 and 70mg depending on the type and quantity used). For this reason, consuming Matcha Tea in the morning at breakfast, rather than the usual coffee, helps to fill you with energy without causing undesired sensations of nervousness and agitation sometimes caused by coffee.
IMPROVES MOOD
Thanks to the presence of L-Theanine, a specific amino acid, Matcha Tea contributes to a good mood, activating alpha waves in the brain and giving a sensation of calm and wellbeing.
IMPROVES MEMORY
Another peculiarity of L-Theanine is the production of dopamine and serotonin. For this reason, regular consumption of a mug of tea, stimulates memory and concentration.
IT IS A POWERFUL ANTI-OXIDATIVE
Very rich in EGCG anti-oxidatives, a mug of Matcha Tea corresponds to about 10 mugs of regular tea. The antioxidants contained contribute towards preventing cellular degeneration and premature cutaneous ageing.
IMPROVES METABOLISM
Regularly drinking Matcha Tea also accelerates the metabolism, thereby contributing towards more easily burning body fat.
DETOXIFIES THE BODY
The high quantity of chlorophyll present in the tea powder (obtained by growing the leaves in shadows) has a powerful detoxifying and draining effect, capable of naturally removing toxic metals and body toxins.
STRENGTHENS THE IMMUNE SYSTEM
Thanks to the presence of numerous polyphenols, iron, potassium, vitamin A and C, calcium, minerals, and vitamins, it helps to strengthen the immune system.