Direct heir to the roman baths, the eastern culture of the Hammam has ancient origins. Suffice to say, the first explicit references to this wellbeing treatment can be found in the collection of short stories "A Thousand and One Nights", dating back to the 10th century. To date, even the west has developed a culture of Turkish baths, to bring benefits to body and mind and to enjoy a moment of relaxation and detachment from everyday stress. The Hammam is a unique place par excellence in which you find true relaxation, aesthetic care, and physical health, more dispensable than ever in the frenzy of everyday life.
BENEFITS FOR THE BODY
Inside the Turkish bath, there is a temperature of 40-50°C with a 100% humidity content. The synergetic effect of the vapour and heat is a panacea for the body as it has multiple beneficial effects:
loosens stiff muscles;

frees the body from toxins accumulated during the course of the day, generating new vigour and wellbeing;

removes skin impurities giving softness and shine;

supports circulation;

relaxes the mind stimulating endorphins.
BENEFITS FOR SKIN
The Hammam, although recommended for all types of skin, is even more advisable for dry skin which has a tendency to falke. Indeed, the high humidity deeply hydrates skin, relaxing it; above all in the face, the Turkish bath supports microcirculation of blood, better hydrating cutaneous tissue and attenuating wrinkles caused by expressions.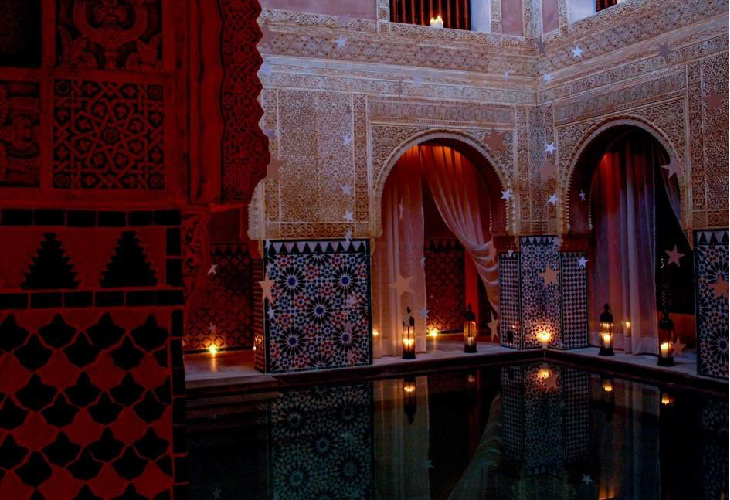 HEALTH BENEFITS
The Hammam is often also advised for respiratory problems linked to the immune system, as it reinforces the body's natural defences. Moreover, it helps to soothe pain associated with rheumatism and muscular tension.
MENTAL BENEFITS
Another beneficial aspect not to be underestimated is the psycho-physical aspect: the ritual of baths, the long durations and silent and collected atmosphere, help to unwind the mind, release tension and stress and achieve a completely relaxed condition.